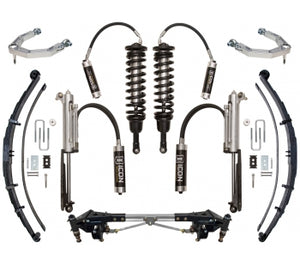 2010 - 2014 Ford SVT Raptor 3.0 Performance Suspension System - Stage 4
Regular price $11,260.99 Sale
Overview:
The Ford SVT Raptor is an extremely capable truck that has captured the attention of the off-road community over the past few years. Since the Raptor's release ICON Vehicle Dynamics' engineers have pushed this vehicle to extremes in order to develop the most comprehensive suspension components on the market. From the brutal deserts of the Southwest, to the deep snow of Michigan's U.P., to the wooded trails of the East coast, ICON suspension systems have been put to the test and performed flawlessly. Unable to leave "well-enough" alone, ICON is once again aiming to raise the bar in Raptor performance with the introduction of the RXT Rear Suspension System. Through a combination of in-house R&D and close collaboration with several Raptor enthusiast groups, ICON has spent the better part of the last year further identifying limiting factors in OE components and looking to further extrapolate performance out of this vehicle in complete bolt on fashion.
This Stage 4 System combines the unstoppable performance of our Ford Raptor 3.0 Coilover Shock System and fully adjustable Billet Delta Joint Upper Control Arms with the 3.0 RXT complete rear system.  The RXT Rear Suspension System includes an all-new RXT 3.0 Rear Bypass shock, RXT Multi-Rate Leaf Spring, along with the ICON Raptor Rear Bumpstop Kit. Installation of this complete system replaces the aforementioned "limiting factors" and completely redefines the potential of this truck.
ICON Raptor 3.0 Coilovers and Billet Upper Control Arms
The engineers at ICON Vehicle Dynamics took a different approach to position sensitive performance in our 3.0 front coilover shock. Instead of bypassing a small internal piston at the cost of poor control, road holding, and cornering like a traditional internal position sensitive shock, our shock starts with a true 3" main piston that has robust features such as digressive rebound and flutter stack compression. This combination produces outstanding control, great response, and unparalleled ride performance. To achieve even more control for extreme off-road use, we added an additional internal hydraulic system (much like an external mounted hydraulic bumpstop) that produces the extreme forces required during the last 40% of travel to achieve maximum bottom out control. These multiple stages of compression and rebound have been tuned independently to maximize overall performance of the Ford SVT Raptor front suspension. For owners who wish to optimize the ride specific to his or her liking, the front coilover shocks are equipped with an external, "Easy to Adjust" Compression Damping Control Valve, that is effective for the entire stroke of the shock. This compression adjustment valve offers you 10 high resolution settings, each bringing a true feel difference from soft to firm.
These trucks were designed with off-road performance in mind but the OE upper arm with ball joint is one of the weak points in the factory Raptor suspension. Unique to no other Raptor upper control arm on the market to have on vehicle adjustable rod ends to allow for easy alignment adjustment in minutes not hours. That means no taking the arms on and off to adjust them you simply loosen the pinch bolts, adjust to your liking, and re-tighten the pinch bolts. The adjustability allows you to retain the factory track width, while improving tire clearance between the tire and back side of the front fender well. 
This system features upper control arms with ICON's patent pending Delta Joint. The Delta Joint is a heavy duty high angle ball joint that combines the durability of a ball joint with the performance characteristics of a traditional uniball. While the industry standard uniball does a great job of allowing the control arms of a vehicle to articulate with little bind, they do have an inherent weakness that leaves more to be desired when used in a daily driven application - exposure to the elements. The Delta Joint features a zinc plated housing providing the first layer of corrosion resistance, while a tough grease seal keeps potentially harmful elements out of the inner workings of the joint. Metal on metal construction and a greasable design increase the longevity of the Delta Joint while at the same time allowing for noise-free operation. What makes the Delta Joint unique is that it brings the best of both worlds to ICON upper control arms with features that make it more robust than a uniball, and at the same time capable of greater angularity than a typical ball joint.
ICON Raptor Rear Hydraulic Bumpstop Kit
The job of the bumpstop is to control and limit the final position of the suspension during up-travel. The OE rear bumpstop is made of foam rubber, is limited on how much energy it can absorb, and is also a limiting factor in the amount of travel that can be had in the rear of the Raptor. The ICON Raptor Rear Bumpstop Kit utilizes a velocity-sensitive 2.0 hydraulic bumpstop that increases the amount of energy absorbed the faster it is hit. With a robust clamshell bracket design and triangulated cross braces, it not only gives a rigid mounting point for the air bump, it helps support a known weak part of the frame prone to failure. This kit was also originally designed to limit bump at the factory location, but has always had a provision to allow for more up-travel through the use of a removable spacer. When combined with the RXT leaf spring and rear shock, the spacer can be removed resulting in a drastic increase in up-travel and off-road performance.
ICON RXT Multi-Rate Leaf Spring
To take advantage of the additional travel that the RXT Rear Suspension System offers, ICON engineers had to scrap the OE leaf springs and develop a replacement that addressed issues found in the R&D process. The result is a user-adjustable multi-rate leaf pack that offers a major performance gain for almost every Raptor setup imaginable. Features like tip inserts and leaf separators reduce friction and add to overall ride comfort, while a triple military wrapped front and rear half wrapped eyelet increases durability and strength of the leaf spring. A rebound leaf was added to reduce the axle wrap of the Raptor, which was another issue that has been found through ICON's extensive testing. To increase the ride quality of the truck and gain additional droop travel, the spring rate of the standard configuration has been lowered slightly. While most Raptor owners will embrace this, there are those who have outfitted their trucks with a significant amount of weight in the form of a chase rack, spare tires and parts, or other additions. Understanding this, the leaf pack was designed with an additional leaf (provided) that can be exchanged or added to the pack, yielding an additional 10% or 20% spring rate that will handle heavier vehicles.
ICON RXT 3.0 Rear Bypass Shock
To complete the RXT Rear Suspension System, a new shock had to be developed that could control the suspension throughout this new range of travel, as well as stand up to the off-road abuse that the Raptor would now be capable of delivering. The increase in up-travel was answered with a unique side-mount eyelet approach that allowed ICON engineers to develop a shock that is shorter in collapsed length, longer at extension, and still fits in the factory mounting location. A Dual Hose Recirculating Reservoir (Patent Pending) incorporates a check valve that allows hot fluid in the shock body to be exchanged with cooler fluid in the reservoir. The result of this is the ability of the Raptor to be driven harder for longer periods of time without the worry of shock fade and degraded performance.
Key Features of the Raptor Front 3.0 Coilover Shock:
• 3.0 OEM Replacement Remote Reservoir Compression Adjustable Front Coilover Shocks
• Internal Hydraulic Bump Zone Designed for Maximum G-out Control in the Last 40% of Travel
• Easy-to-Adjust High Resolution Compression Adjuster Offers Fine Tuning Adjustments For All Types of Terrains
• Direct Bolt in to OEM Location and Optimum Reservoir Positioning for Superb Heat Dissipation and protection
• Nitrogen Charged 6063-T832 Aluminum 10" Remote Reservoirs
• Adjustable Ride Height from 1 – 3" of Lift
• ICON Engineered Eibach Springs Offer Increased Travel and Performance
• Multi Stage Cad Plated Finish with Polished and Anodized Top Cap / Rod Ends
• Com 12 PTFE Lined Bearings Ensure Maximum Strength and Durability
• Oversized 1" Heavy Duty CNC Machined Shock Shafts
• Extended Droop Travel and Increased Overall Performance on and off road
Key Features of the Raptor Upper Control Arms:
• 6061 Billet Aluminum
• Precision CNC Machined
• Patent Pending Delta Joint
• RSMX PTFE Lined 7/8" Rod Ends
• Easily Adjustable on the Vehicle for Perfect Wheel Alignments
• 17-4 Stainless Steel Taper Adapter Pin Provides OEM Like Fitment
• O-ring sealed dust cover
Key Features of Hydraulic Bumpstop System:
• Designed for increased leaf spring clearance so there is no loss in up travel with stock or aftermarket springs
• Easy bolt on installation without having to remove the truck bed
• 6061 Solid billet cross bar that is polished & anodized
• Bumpstop striker pad does not require leaf spring disassembly
• Comfortable on road manners with sufficient damping capability under extreme load
• Hydro-pneumatic bumpstop increases bump energy capacity
• Velocity sensitive Hydro-pneumatic bumpstop increases the amount of energy absorbed the faster it is hit
• Reduces rear end kick and improves overall performance
• Clamshell brackets strengthen frame in critical areas preventing frame damage from extreme off road use
• Cross member and tension rods stabilize frame rails and prevent twisting under hard impacts
• Increases frame rigidity and improves overall vehicle dynamics
• Industry first billet cross beam
• Pre-tuned and Nitrogen charged for most Ford Raptors
• Integrated adjustability for future ICON Raptor specific products
Key Features of the Raptor RXT Multi-Rate Leaf Spring
• 3 User-adjustable spring rates for unique setups
• Triple military wrap front eyelet and rear half wrap for increased durability
• Rebound leaf reduces severe axle wrap
• Tip inserts and leaf separators to reduce friction and improve ride comfort
• OE style bonded rubber bushings that are maintenance free and do not squeak
• Bumpstop extensions included for use when no aftermarket bumpstop kit is installed
• New Ford OE front spring eye bolts included for easy removal and re-installation of springs
Key Features of the Raptor RXT Rear 3.0 Bypass Shock:
• 3.0 RXT 3 tube bypass rear shock with 3.0 remote reservoir
• Unique side-mounted upper eyelet allows for increased up-travel while utilizing factory mounting location
• Recirculating Dual Hose Reservoir (Patent Pending) keeps shock temperatures low by pumping heat to the reservoir for increased dissipation
• Anti-Wobble Link (Patent Pending) keeps bypass tubes clear of leaf spring and tire
• Easy-to-Adjust detented adjustment knobs offer quick adjustability without the use of tools
• High resolution bypass valves designed for noticeable fine tune adjustments in rebound and compression
• High flow CNC machined welded bypass blocks designed to increase fluid flow for enhanced performance & high definition tuning
• Replaceable bypass tubes that can easily be replaced if damaged
• Direct bolt in to OEM location with bypass adjustment knobs easily accessible for tuning adjustment
• Special engineered damped valve seats for quiet and precise operation without the standard bypass loud "clicking" noise you will find with other brands
• Multi stage cad plated finish with polished and anodized top cap / rod ends
• Protective shin guards standard with every kit
Wheel & Tire Fitment Info:
Aftermarket Wheels:   17" and Up w/ up to 5" Backspace
Aftermarket Tires:      35"
                                  37" when adjusted to 3"  (ICON Adjustable UCA Recommended)

               (minor trimming required, rubbing may occur while off road and suspension is completely compressed)
Stage System Contents:
95000    (QTY - 1) - Ford Raptor 3.0 Front Remote Reservoir Coilovers
95201    (QTY - 1) - Ford Raptor RXT 3.0 Remote Reservoir Rear Bypass Shocks
98560    (QTY - 1) - Ford Raptor Billet Delta Joint Upper Control Arms
95120    (QTY - 1) - Ford Raptor Rear Hydraulic Bumpstop Stop System
95220    (QTY - 1) - Ford Raptor Multi-rate Rear Leaf Spring System
Options:
95100     Ford Raptor Lower Control Arm Skid Plate System
95005     Ford Raptor 3.0 Secondary Bypass Shocks (Fabricated Lower Control Arms Required)